Open-Access Books: Tibetan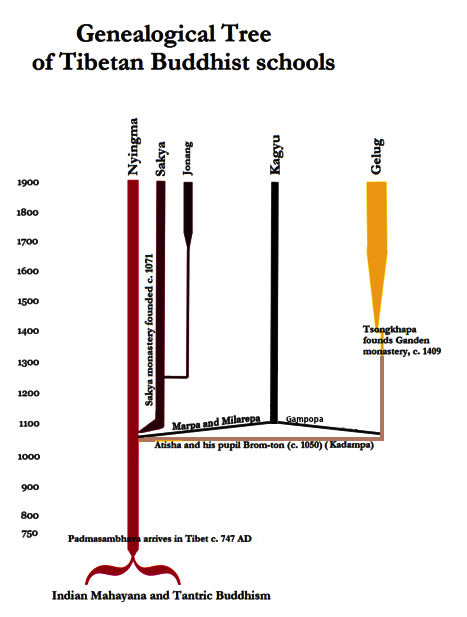 The following links are open-access, full texts on various aspects of Tibetan culture, mostly dealing with Tibetan Buddhism. Tibetan literature generally refers to literature written in the Tibetan language or arising out of Tibetan culture. Historically, Tibetan has served as a trans-regional literary language that has been used, at different times, from Tibet to Mongolia, Russia, and present-day Bhutan, Nepal, India, and Pakistan. Today, the term Tibetan literature can also be applied to any work by an ethnic Tibetan person or arising out of Tibetan folk culture; contemporary Tibetan writers sometimes use Chinese, English, or other languages to compose their work.
Please check frequently, there are always new books being uploaded.
Praises to the Twenty One Taras

Tara (Sanskrit: तारा, tārā; Tib. སྒྲོལ་མ, Dölma) or Ārya Tārā, also known as Jetsun Dölma (Tibetan language:rje btsun sgrol ma) in Tibetan Buddhism, is a female Bodhisattva in Mahayana Buddhism who appears as a female Buddha in Vajrayana Buddhism. She is known as the "mother of liberation", and represents the virtues of success in work and achievements. She is known as Tara Bosatsu (多羅菩薩) in Japan, and occasionally as Duōluó Púsà (多羅菩薩) in Chinese Buddhism.
Tara is a tantric meditation deity whose practice is used by practitioners of the Tibetan branch of Vajrayana Buddhism to develop certain inner qualities and understand outer, inner and secret teachings about compassion and emptiness. Tara is actually the generic name for a set of Buddhas or bodhisattvas of similar aspect. These may more properly be understood as different aspects of the same quality, as bodhisattvas are often considered metaphors for Buddhist virtues.
Bardo Thodol or Tibetan Book of the Dead

The Bardo Thodol (Tibetan: བར་དོ་ཐོས་གྲོལ, Wylie: bar do thos grol), Liberation Through Hearing During the Intermediate State, is a text from a larger corpus of teachings, the Profound Dharma of Self-Liberation through the Intention of the Peaceful and Wrathful Ones, revealed by Karma Lingpa (1326–1386). It is the best-known work of Nyingma literature, and is known in the West as the Tibetan Book of the Dead.
The Tibetan text describes, and is intended to guide one through, the experiences that the consciousness has after death, in the bardo, the interval between death and the next rebirth. The text also includes chapters on the signs of death and rituals to undertake when death is closing in or has taken place.
Illumination of the Path to Freedom

Illumination of the Path to Freedom by His Holiness the First Dalai Lama Gyalwa Gendun Drup (1391-1474), is a commentary to a much older Tibetan classic: The Treasure House of Knowledge, written by the Master Vasubandhu (350 AD). Dalai Lama starts out with an entertaining discussion about Tibetan versus Sanskrit – Tibet versus India:
"If a commentary comes from India people will take the time to study and teach it. It's just like the local merchants. If they hear some barley has come from the lowlands, right away they want to trade for it, because the source is a good one. A commentary may be excellent, but if you don't put some Sanskrit in it nobody wants to work with it. They think it's just Tibetan."